Discover the perfect carpet for any room in your home.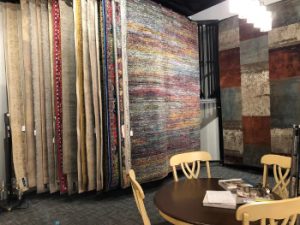 Adding carpet to one or more rooms in your home can have more benefits than aesthetic appeal alone. Choosing the right carpet and backing can create a more comfortable playroom for your children, a cozier environment for a drafty basement, or a softer look for your master bedroom.
Whether you want a plush, high pile carpet for a luxurious bedroom or a low-maintenance loop pile carpet for a room with lots of foot traffic, there are a few key things you should consider before you make a decision:
Keep your desired color scheme in mind. Many people might opt for a neutral gray or beige carpet because they think it will go with any décor. However, if your walls are also neutral colors, this can make a room look dull or boring. You may want to opt for softer colors like lavender for bedrooms or rich colors like navy or burgundy for your living room.
Always ask about caretaking instructions. If you have young kids or pets, you'll probably want a stain-resistant carpet to make cleaning up less of a hassle. Certain types of loop pile carpets can also snag little fingers and animal claws, so it's best to opt for cut pile or textured carpeting instead.
Bring a few samples home. Before buying carpet, always bring a couple of color samples home to see how they look with the rest of your décor. They can also look different in natural light compared to the store lights.
If you're searching for the right carpet for your home in Andalusia, Alabama, there's no better place than Enterprise Wholesale Flooring and Lighting! Our expansive warehouse has over 6,000 square feet of space to explore, and our helpful staff will be more than happy to help you choose a great carpet for your unique needs.
---
Carpet in Enterprise, AL
Carpet in Daleville, AL
Similar Services We Offer: